Whether this is your first Rendezvous or your 30th…here's what to expect at the 2021 Canadian Tollycruisers Rendezvous.
The Rendezvous Theme: Vikings—Season 2
Each year a theme is chosen for our Rendezvous. Last year we decided to continue with the Viking theme – everyone knows the second go around is always better. Many of the events/decorations/games taking place during the weekend will feature this theme. You can join in the fun of the theme by decorating your boat and wearing a costume.
We encourage all participants to dress for a Viking good time for dinner on Saturday. Many of us are known to carry the Viking dress theme all weekend long as well. Prize for best costume announced Saturday night.
Food Events
We are planning our traditional Tolly food events during the rendezvous. Corn and rib night on Friday, coffee and muffins in the morning, potluck dinner on Saturday night, Friday burger lunch and pancake breakfast on Saturday morning.
Friday Burger Lunch – If you bought a ticket come enjoy a burger and the fixins.
Friday Corn and Ribs Dinner – Bring your meat/protein to cook on the BBQ's and fresh BC corn on the cob will be provided
Saturday Pancake Breakfast – Yummy flapjacks grilled by some of Tolly's finest. Sponsored by Steve Dittoe and Everett Yacht Sales.
Saturday Potluck – The barbeques will be hot hot hot, bring your protein to the pavilion and a salad to share.
If you prefer not to take part in the potluck aspect of our meals, please feel welcome to bring your own food to the meals. We understand everyone has their personal levels of comfort with regards to COVID and interactions with others.
Please bring your own plates, utensils, glasses, etc. to all events. We will be hosting these events outdoors by the pavilion where tables and seating are available.
Volunteering
We may look like we have it all together, but truly we need your help to make the weekend a success. When you registered, we asked you to choose your preferred volunteer area. When you arrive, please check in with us and sign up for an hour or two of volunteering.
And, in case you don't remember what you chose, we can use help with: selling 50/50 tickets; making coffee in the morning; selling Tolly clothing; registration desk; cleanup; flipping burgers or pancakes; games and activities; photography. A few hours of your time will make the weekend enjoyable for everyone.
Games & Events
Dinghy Parade: Join the Viking crew Saturday afternoon. Prior to our dinner get together we will have our dinghy parade around Tollygraph Harbour. Last year someone dressed up in a blow up unicorn costume. It was a huge hit within the two marinas around the harbour. Let's see what we can do this year – please dress up in your favorite Viking outfit or funny blow up costume for this event.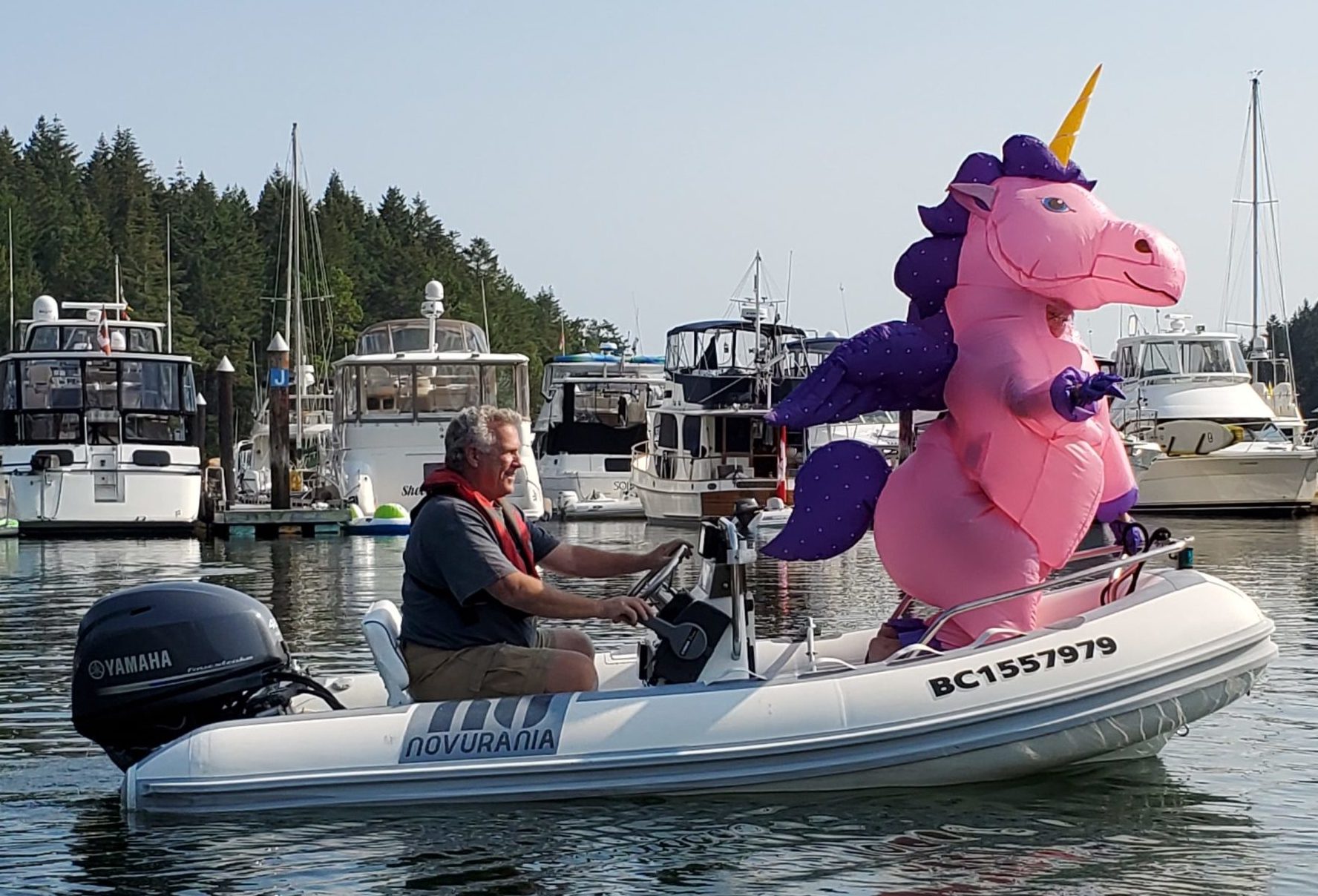 Games and Activities: Throughout the weekend there will be 50/50 draws, various games for all ages, and other activities – check out the agenda at tollycruisers.ca. Please make sure to bring cash with you for the various events and clothing sales.
Marine Swap Meet: Do you have some boating items taking up valuable space on your Tolly or in your garage. Then bring them to sell at our Marine Swap Meet on Saturday from 10 a.m. – noon. near the registration desk.
Tolly Merchandise: Merchandise will be available for sale during the Rendezvous – a great way to show your Tolly love throughout the year! Canadian $$ please – cash only.
Covid (yes, we're still talking about it)
Please be aware that all activities & events are subject to BC Covid Safety Protocols and guidelines and any rules and regulations set out by Telegraph Harbour Marina effective during the rendezvous.
As such, certain events and safety protocols may be subject to change. For our social gatherings with food/games we will ask that social distancing and mask wearing be observed as necessary. Your health is important to us and we want to provide the safest environment possible for everyone to enjoy.
We look forward to welcoming you to the 2021 Canadian Tollycruisers Rendezvous. If you have any questions, please email us at posehnphil@gmail.com.
Sincerely,
Phil & Maria Posehn
Hat Trick (1991 Tolly 44)