Introducing the…
IT'S CHRISTMAS IN SEPTEMBER
 Date: September 11-14, 2014
Place: TELEGRAPH HARBOUR MARINA, THETIS ISLAND, BC
WEDNESDAY (Optional)
THURSDAY
0800 Coffee & Muffins on the dock
1100 Registration Opens
1800 Corn roast and Rib Night (we supply the corn, you bring ribs to share)
FRIDAY
0800 Coffee & Muffins on the dock
1200 Lunch on shore – Burgers and Beer
1730 Pot Luck Reception – Bring Appies to share!
SATURDAY
0800 Coffee & Muffins on the dock
1030 – 1230: Open House on the boats
1300

 The 26th Annual Tollycruisers

Pet Parade

on shore featuring Emcee Steve "Seacrest" Monrad" – Woof!  Download the details here. (Registration details are now in the online form!)
1730 BBQ on Shore – Bring your own meat to BBQ – we supply the rest. Entertainment and prizes (Best Decorated Boat, etc)
SUNDAY
Famous Tollycraft Pancakes and Mimosas
Farewells
ONLINE REGISTRATION & ONLINE PAYMENT:
Once again, you can now register and pay ONLINE!
1. Fill out your ONLINE Registration here
2. And don't forget to user our new ONLINE Shopping Cart to pay for your Registration, extra guests, and your lunch.
Note: If you are not computer friendly, you can use our downloadable form and can make your cheque payable to:
Canadian Tollycruisers
C/O Burrard Yacht Club
10 Gostick Place
North Vancouver, BC V7M 3G3
Download the registration form here.
FOR MORE INFORMATION, CONTACT:
Terry Murphy @ tmurphy3@shaw.ca or 604-290-7563
Paul Coridor @ ptcoridor@telus.net
____________________________________________________________________________________________________________
RECAP: PRINCESS LOUISA COMMEMORATIVE TOLLY CRUISE – MAY 2012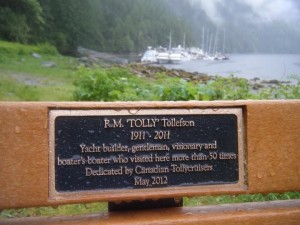 June 1 – Renowned Yacht builder Robert Merland 'Tolly' Tollefson first visited Princess Louisa Inlet in his own 23 foot wooden boat with his brother and a friend in 1938.  He became a great friend of James 'Mac" MacDonald  and visited Louisa more than 50 times (some  years doing 2 or 3 trips) before retiring  from boating a t age 90.Tolly passed away in 2011 at the fine age of 100.  One of his requests was to have some of his ashes spread in the misty waters at the base of Chatterbox Falls.
On May 11, 2012 two Park Rangers installed a commemorative Bench, sponsored by the Canadian Tollycruisers Group, in a prominent spot with a fine view of the falls. On May 21, 16 Tollycraft Yachts from Canada and the USA passed through Malibu Rapids and secured on the docks near the falls. The vessels were BALCORI, BELL ELAFF, BRAVO ZULU, DESTINY, DOUBLE PLAY, NAUTILUS, PAPAKEA, PTAMRGAN, PRECIOUS TIMES, R'ANDIAMO, SURPRISE, SCRUPLES III, TENACIOUS SPIRIT ,VALENTINE,  VIDA BELA, & ZARIA. Interestingly there was a 26, a 30, 2-34's, 2-37's, a 40, a43, a -2-44's, a 48, a 53, a57, & a 61 representing most of the models built by Tolly post 1975.
Two days later, as the sun came out, Jay Hartland of Anacortes WA read a brief eulogy noting that Tolly built 6000 boats and each of those has had about 5 owners.  Tolly, therefore, influenced as many as 30,000 Boaters during his amazing career. It was clear that Tolly considered Tollycraft owners as his family.
Scott Fultz, a 50 year friend of Tolly's and a former employee at Tollycraft Yachts, with his wife Elaine, spread Tolly's ashes from their dingy right where Tolly wanted to be, at the base of CHATTERBOX FALLS.
On Shore, 39 Tolly skippers and crew surrounded the Bench and with Tolly's favouite drink, Single Malt Whisky, saluted Tolly in a toast.
Tolly Tollefson has made his final voyage to Princess Louisa Inlet but his spirit will live on in the mist of the falls for eternity.
____________________________________________________________________________________________________________
LOOKING BACK: A RECAP OF THE 2011 TOLLYCRUISERS RENDEZVOUS
More than 70 Tollycrafts from Canada and the USA attended the 2011 rendezvous at telegraph harbour marina in mid September. The weather was not quite as perfect as in other years but we all persevered through some rain.  Early planning had ensured the erection of a large tent on the grass which worked really well.
Docks signs were up as we all arrived as Marge Fulton had once again arranged and donated the signs.  A great job.
By Thursday, most of the boats were secured and the folks enjoyed the annual corn roast.  On Friday, the ladies were served a catered lunch in the pavilion while the men devoured hot dogs under the tent.  The evening pot luck reception was also under the tent and all those who contributed food did a great job.
With a theme of 'Gilligan's island', it was appropriate that the original SS Minnow from the TV series was in attendance.  Owned by Quality Foods on Vancouver Island, the Minnow was the hit of the weekend.  Everyone was invited to view this spectacular yacht which has been restored to bristol condition.  A draw was held and three couples enjoyed a cruise around the harbour on board.
Bud Cooper and his team organized a very successful on land poker run on Saturday… Another fine event.  Larry Schnetzky brought two Tolly's to the marina, his big one, Scruples 111, and a beautifully restored Tolly runabout, Scruples 1V.
The annual BBQ dinner was held Saturday night with entertainment by a group from the island providing excellent music for the evening.
After pancakes and mimosa on Sunday morning, the flotilla headed for home.  Another Well attended, successful Tolly rendezvous.
Gilligan's Island– Tolly Rendezvous – 2011