Tollycruisers 🍁 Rendezvous – A Totally Tubular '80s Tollycraft Rendezvous
September 2, 2022

-

September 5, 2022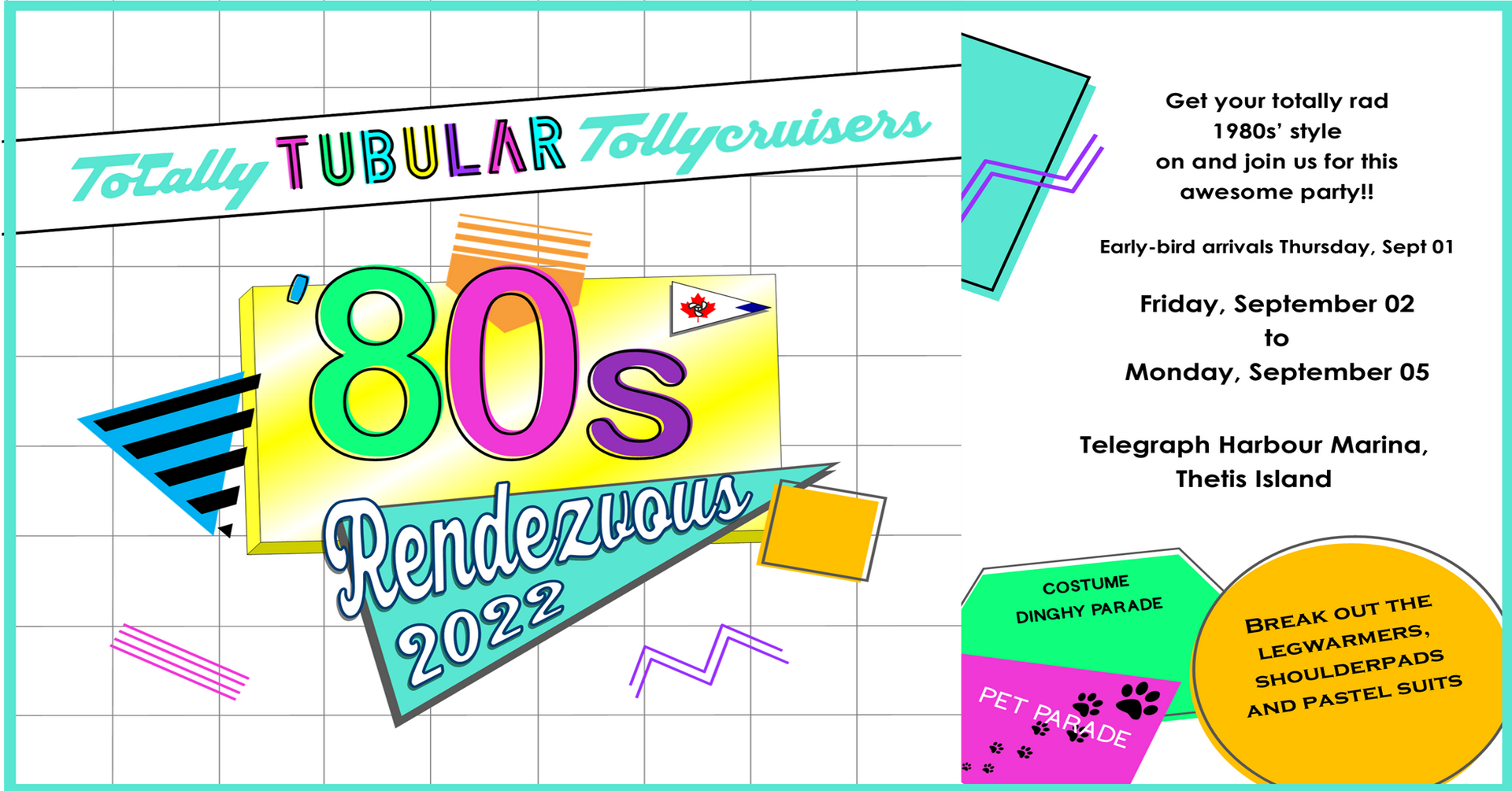 34th Canadian Tollycruisers Rendezvous
Totally Tubular '80s Tollycraft Rendezvous
Dates: September 2-5, 2022 (Labour Day Weekend)
Location: Telegraph (aka Tollygraph) Marina, Thetis Island
Theme: The decade of metal bands and big hair – the 1980s'.
Quick Links
Online registration | Rendezvous schedule | Information
New for 2022
A draw for a Tollycruisers burgee for everyone who registers by June 15.
Select your volunteer preference(s) when you register and receive the volunteer schedule before your arrive.
A donation from the proceeds of the 50/50 and raffles to the Princess Louisa International Society in honour of Mr. Tollefson's love of this special Canadian boating destination.
A special 70th Tollycraft Anniversary Celebration.
Returning in 2022
The Pet Parade!!
The Tollycruisers Cook-Off is back. This year's theme is The San Francisco Treat Rice-A-Roni!
The traditional pot luck dinners. After a hiatus the past couple of years, we are optimistic we can once again enjoy this special Canadian Tollycruisers tradition.
Moorage at Telegraph Harbour (Thetis Island)
The Canadian Tollycruisers have secured a block of slips at Telegraph Harbour for participants of the 2022 Tollycraft
Rendezvous. After you complete your registration for the Rendezvous, your confirmation email will include complete details, including our special code, for reserving your slip.
Registration for the Totally Tubular '80s Tollycraft Rendezvous
Registration for the Rendezvous closes on Tuesday, August 2. This deadline is set in conjunction with Telegraph Harbour Marina's requirements and our ordering timelines.
Everyone who registers by June 15 will be entered into a draw for a Tollycruisers burgee.
Late registration is available from August 3 to 16. Every effort will be made to accommodate late registrations but cannot be guaranteed.
More '80s Tollycraft Rendezvous details
Questions?
Contact admin@tollycruisers.com.